Carbon Steel High Speed Plough Mixer,Chemical Powder Plow Mixer,High Efficient Plough Shape Mixer,Plough Mixer with High Speed Chopper,Horizontal Paste Ribbon Mixer,High Efficiency Plow Shear Blender

Introduction:
Plough mixer is widely used to mix powder, granule, and small liquid additives in food, chemical, and construction line.
It is particularly good at handling food additives, mortar, fertilizing, sludge, plastic, and special
Building Material
. The powerful shearing effect makes it high efficiency, and good mixing result.
Batch working volume: 0.1-20cbm
Batch weight: 0.3-15tons
Material: 316L, 304, mild steel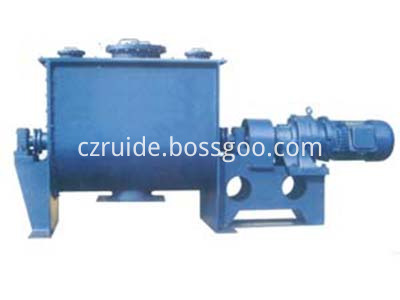 Working principles:
Plough shear mixer is a single shaft compulsory mixing equipments. Several sets of plough shears are installed on the main shaft in dislocation and continuously, which avoid the mixing dead zone in structure. When operating, material in mixer tank move following the direction of the continuous vortex centrifugal force generated by the continuously blending plough shears, thus to achieve scattering, dispersing and fast mixing of material.
Special material like fiber or some damp agglomerate material, high speed chopper can be installed inside mixer tank to scatter, dispense these materials with combination of plough shear mixing agitator.
The high speed choppers are positioned at the barrel side downward angle of 45 degrees of the plough shear mixer, the chopper heads stretch into the barrel. During mixing, materials are driven to the effective range of the chopper, and sheared in high speed by it.
Plow Shear Blending Equipment Flexible material selection
Material can be chosen from carbon steel, manganese steel, ss304, 316L and 321; besides, different material can also be used in combination. Material is different between the part contact with the raw material and the parts don`t contact with the raw material. Surface treatment for stainless steel include sandblasting, wiredrawing, polishing, mirror polishing, all can be used in different parts of a mixer.
Reliable driven unit
The driven unit, power and output speed are varied according to different raw material, starting method, and processing. Options for motor: general motors, explosion-proof motors, variable frequency motor, high efficiency and energy saving motor. Commonly used reducers: R-series, K-series, and F-series gear box; cycloidal reducer, universal gear reducer, planetary gear reducer. Commonly used connection: direct connection, pulley connection, hydraulic coupler connection.
High efficiency mixing unit
The plow heads in the plough shear mixer can be dismount able, which is convenient for replacement. Wear-resistance treatment is done on the plough, making the plough is more adapted to the severe wear conditions. Different main shaft agitators can be equipped according to the properties of raw materials.
Main shaft agitators: ordinary plough, saw-toothed plough, and shaver-shaped paddle; High speed chopper: multiple-piece cross blade, double-piece lotus blade.
Excellent discharging unit
Standard valve for horizontal plough shear mixer is pneumatic planar flap valve. When close the valve, the planar flap match the mixing barrel perfectly, this makes no mixing dead zone and better mixing effect. The drive types of valve are Manual, pneumatic, and electric. Valves for consideration: powder spherical valve, cylinder valve, plum-blossom dislocation valve, butterfly valve, rotary valve etc.
Powerful auxiliary components
Mixer is frequently equipped with many auxiliary components, like steam coil jacket, honeycomb pressure jacket, medium circulation jacket, sampling valve, high speed chopper, temperature sensor, weighing system, dust removal system and so on. Different heat medium requires different jacket, it can be used for heating and cooling, while, the temperature should be within 250 Celsius degree. If a small quantity of liquid is required during mixing, spraying or atomizing unit is necessary in order to mix the liquid evenly with the main ingredient. The liquid-adding system is basically composed by the three parts: pressure source, liquid storage pot and spraying nozzles.
Tight shaft sealing
Three types of main shaft sealing for mixer: packing sealing, combined type air-purged sealing, mechanical sealing are used for granule, powder, micron grade powder, liquid, and slurry material.
Selection way:
1. Choose the batch working volume from 0.1cbm to 20cbm, select mixer accordingly.
2. Choose raw material for the part contact with raw material, non-contact with raw material, other parts like motor and reducer, bearing material can not be chosen; According to the material to be mixed, processing condition, health level, raw material can be chosen from mild steel, sus304, sus316L, sus321; And choose the surface treatment according to the raw material.
3. Motor power is chosen according to the material gravity, fluidity, and operation.
Operation is divided as: Start mixer when it is empty (normal duty); Start mixer with load (heavy duty)
4. Adding the auxiliary components like spraying, heating and cooling according to processing condition.
5. Mixer inlets: feeding ports, cleaning port, vent.
6. Chose discharging and driven mode: manual, pneumatic and electric.
Model:
| | | | |
| --- | --- | --- | --- |
| | Total Volume | Effective Volume | Motor Power(KW) |
| LDH-0.1 | 100L | 40-60L | 3 |
| LDH-0.3 | 300L | 120-180L | 4 |
| LDH-0.5 | 500L | 200L-300L | 7.5 |
| LDH-1 | 1000L | 400L-600L | 11 |
| LDH-1.5 | 1500L | 600L-900L | 15 |
| LDH-2 | 2000L | 800L-1200L | 18.5 |
| LDH-3 | 3000L | 1200L-1800L | 18.5 |
| LDH-4 | 4000L | 1600L-2400L | 22 |
| LDH-6 | 6000L | 2400L-3600L | 30 |
| LDH-8 | 8000L | 3200L-4800L | 45 |
| LDH-10 | 10000L | 4000L-6000L | 55 |
| LDH-12 | 12000L | 4800L-7200L | 55 |
| LDH-15 | 15000L | 6000L-9000L | 75 |
| LDH-20 | 20000L | 8000L-12000L | 120 |